Innovation, intellectual creation, excellence in Life. RainSure is committed to providing innovative, high quality, high performance products to fulfill the unmet needs of life science research and clinical diagnostics
We'd love to hear from you. Get in touch with us just below to request an offer!
---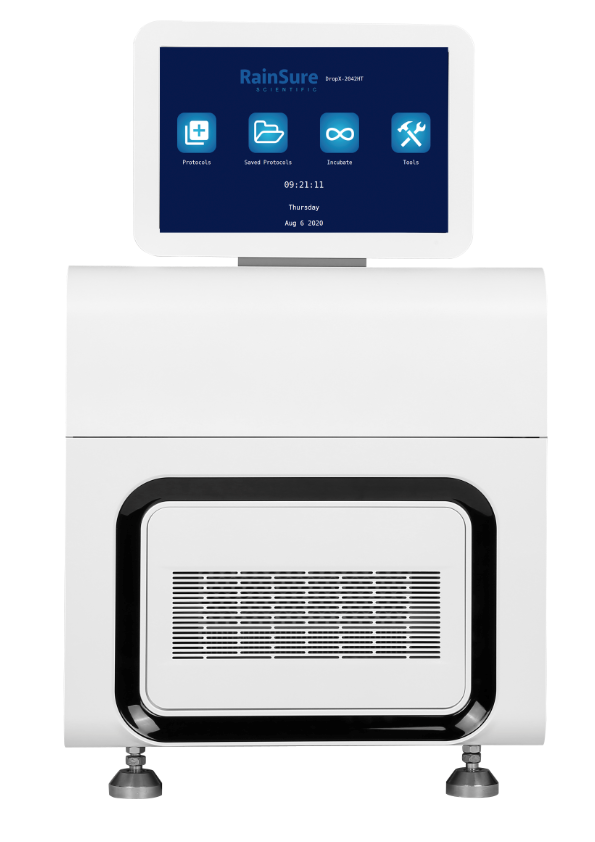 ---
Description

PCR Amplifying Apparatus, a product utilizes rapid generation of water-in-oil microemulsion droplets using Description proprietary patent pending microfluidics technology and unique reagent system adopting international top design temperature control unit combined with RainSure's proprietary temperature control software and flat surface microfluidic cartridge to achieve rapid amplification of nucleic acids.
Features

Combines high precision microfluidic pressure control system and microfluidics cartridge, realize fast, stable generation of monodisperse "water-in-oil" droplets. The product can produce 20,000-30,000 droplets in 70 seconds. The performance is stable and durable. The generated droplets Features are highly stable, uniform in size, and diameter CV < ±3%.
---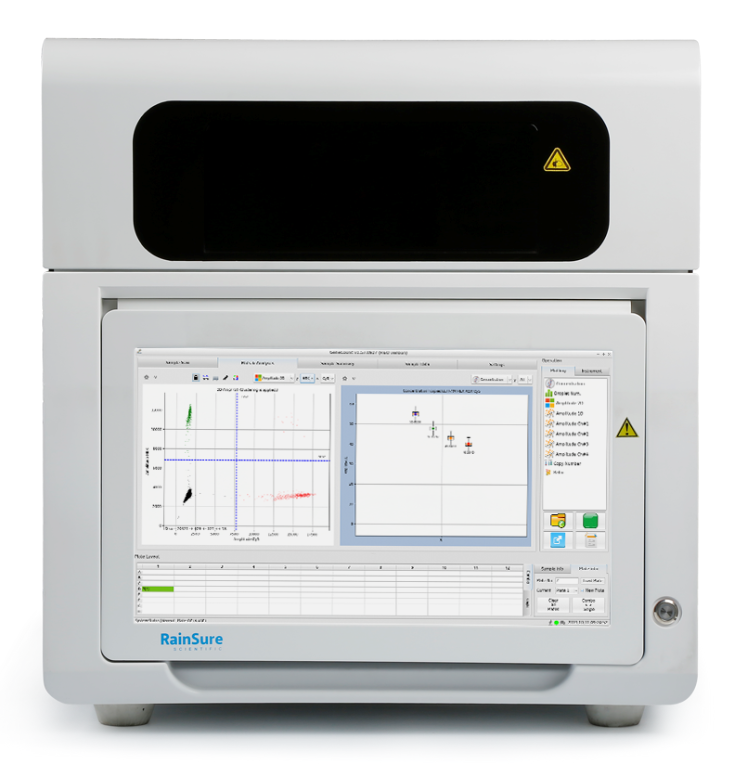 ---
Description

Biochip Scanner using the exquisite optical technology design, the fluorescence signal of the droplets can be accurately and quickly read by the scanner and the absolute value of the Description positive and negative droplets can be provided through Poisson distribution statistical calculation.
Features

The industrial leading four-color fluorescent channel design enhances the possibilities of multiplexing in digital PCR reactions; fast, full spectra multi-fluorescence channel signal acquisition design; integrated automated image analysis processing software.
---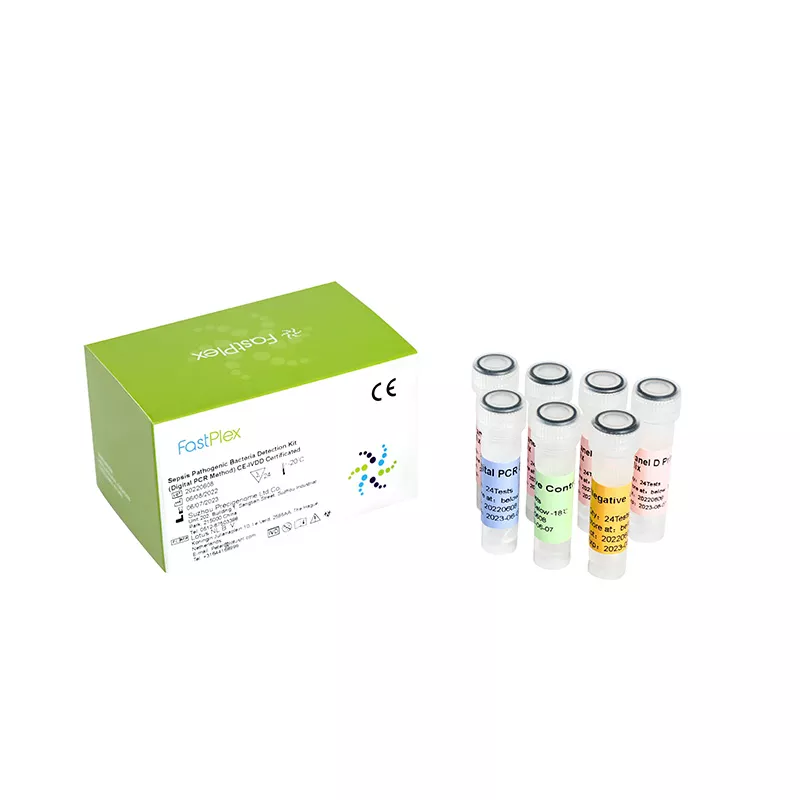 ---
Description

Bloodstream infection refers to a systemic infectious disease caused by bacteria, viruses, fungi, etc., invading the bloodstream, which can lead to sepsis. Sepsis refers to life-threatening organ dysfunction resulting from a dysregulated host response to infection. It has the characteristics of high morbidity, a high disability rate, and a high mortality rate, and is one of the causes of in-hospital death in patients in the intensive care unit. The annual number of sepsis patients in China is estimated to be 5.68 million, and the mortality rate of severe sepsis patients is as high as 33.5% - 48.7%. Early identification and appropriate operation can improve outcomes in patients with sepsis. The digital PCR detection method can accurately determine the type and load of pathogenic bacteria in the blood without the need for blood culture steps and plays an extremely critical role in the treatment of infection.
This kit covers the detection of 15 pathogenic bacteria commonly found in bloodstream infections, including:

- Bacteroides fragilis
- Staphylococcus epidermidis
- Enterococcus faecium
- Streptococcus pneumoniae
- Acinetobacter baumannii
- Enterobacter cloacae
- Enterococcus faecalis
- Staphylococcus aureuss
- Staphylococcus hemolyticus
- Klebsiella pneumoniae
- Pseudomonas aeruginosa
- Escherichia coli
- Staphylococcus capitis
- Stenotrophomonas maltophilia
- Staphylococcus hominis

---
1
Do the instruments require regular calibration?
RainSure dPCR instruments are calibration-free if the operating procedures, as well as daily, monthly, and yearly maintenance schedules are followed. Understand that some laboratories require yearly calibration for audit purpose, such service is available upon request and report will be provided.
2
Is it necessary to compensate for fluorescence crosstalk(s) for RainSure dPCR?
RainSure dPCR platform is crosstalk-free, correction is hence not needed.
3
Do you observe/ encounter edge effect on RainSure dPCR?
RainSure dPCR platform uses microfluidic chip to form water-in-oil droplets, therefore there will be no empty reaction in the peripheral wells. Calibration of fluorescence channel is also not required.
4
How is the accuracy of heating and cooling being ensured on RainSure Sample Prep Station?
Temperature of RainSure Sample Prep Station is tightly controlled by a Peltier module, additionally, the temperature of each sample is precisely regulated by individual metal probe (sixteen fluxes) underneath the chip.
Are you interested in the product?
We'd love to hear from you. Get in touch with us just below to request an offer!